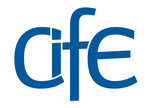 Executive Master in EU Studies
The Centre international de formation européenne, CIFE, in cooperation with the Jean Monnet Chair of the University of Cologne organises a Certificate programme (one-year) and an Executive Master in EU Studies Online (two-years). CIFE is supported by the European Union in the framework of the Jean Monnet Programme.
Participants receive structured knowledge of EU fundamentals and a focus on selected priority issues for an in-depth understanding and future-oriented approach to EU integration. With more than 10 years of experience in blended learning, CIFE offers teaching, research and professional skills training combining e-learning, face-to-face workshops and individual supervision for best learning outcomes.
Thus, the Executive Master in EU Studies grants professionals the opportunity to deepen and expand their knowledge of the EU integration process, through a combination of e-learning and intense face-to-face learning sessions (mainly during intensive weekend workshops in Berlin, Budapest, Brussels, Nice, Rome and Vienna). These programmes allow young professionals to continue their studies while pursuing their careers.
Both programmes offer the perfect blend of theoretical and practical knowledge of the EU. They, also, allow participants to gain the skills of negotiation within an international context, drafting reports, planning and managing international projects, and presenting their ideas in a transnational legal dimension.
For further information and application please consult the website or contact Aline Palige.