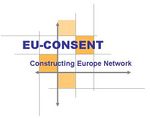 EU-CONSENT - Wider Europe, deeper integration?
CONSENT is a Network of Excellence for joint research and teaching on the construction of a new Europe. The network of 49 partners from 25 countries will address questions of the mutual reinforcing effects of deepening and widening of the European Union.
Coordinated at the Jean-Monnet Chair.
Press release on the occasion of the project's completion:
de en
Please visit the website.