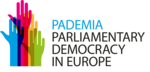 PADEMIA – Erasmus Academic Network on Parliamentary Democracy in Europe
The motivation of PADEMIA is to establish a Europe-wide and sustainable network of 56 academic institutions from 31 countries to promote research and teaching in reaction to growing European demands to study parliamentary democracy in Europe.
PADEMIA seeks to enhance discussion among students, junior and senior researchers, also in exchange with stakeholders, on how to deal with the new challenges parliaments and citizens across Europe are facing today. The network not only responds to the "Future of Europe" report which identifies "(t)he on-going sovereign debt crisis and the ever accelerating process of globalization (as) an unprecedented dual challenge for Europe"; but also addresses the implications the Lisbon Treaty and further formal agreements have for parliamentary democracy in Europe whose complex, multi-level character furthermore requires thorough and comprehensive reflection.
PADEMIA will be coordinated by the Jean-Monnet Chair of the University of Cologne in cooperation with the Department of Political Science and Public Administration at the Free University of Amsterdam.
For more information please visit the project's website.